Support Your Clients Remotely
Start a technical support session in seconds or access an unattended computer. View the screen and control a remote computer or mobile device.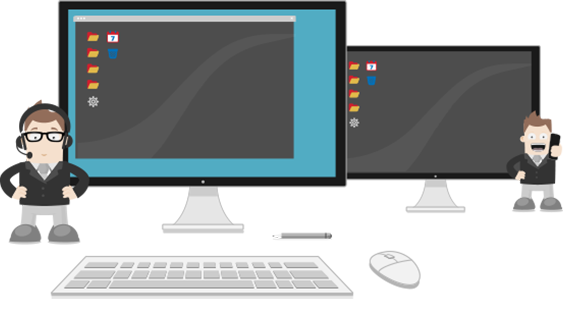 How It Works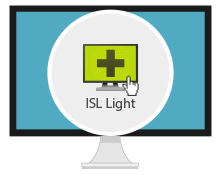 Start New Session
Operator runs ISL Light 4 for Windows, Mac or Linux to start a new support session.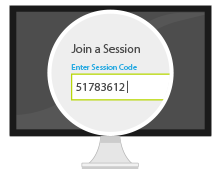 Share Session Code
Ask your client to join a session by entering a unique session code.
Control Remote Desktop
Client joins a session and shares the screen of their computer or mobile device with the operator.
Learn More
2 seconds to Connect with Your Client
Initiate a remote session with a single click and provide support to your client fast. ISL Light 4 connects to a remote computer in less than 2 seconds, allowing you to do more and wait less.
 Starting a remote support session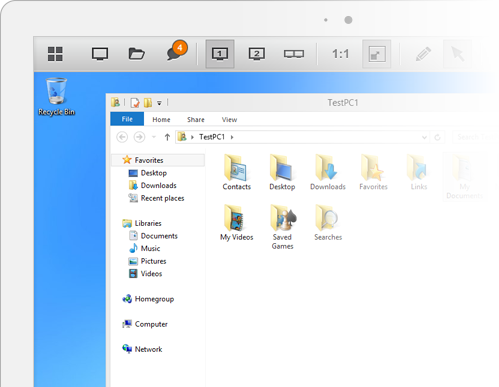 Simple Session Start
Joining a remote session could not be simpler - remote clients only need to click a link sent by you via email or through a live chat. Sometimes you may find it faster to ask the client to enter the code on the website.
www.islonline.com/join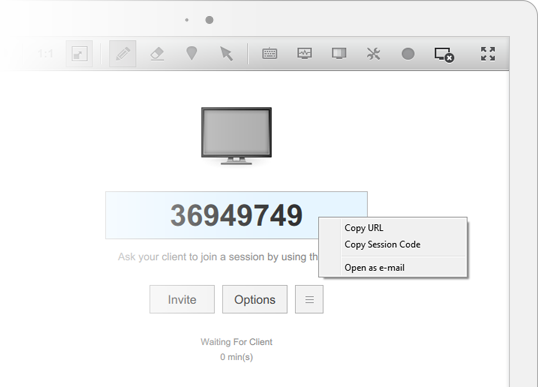 Unattended Access
Access unattended remote computers from anywhere. Connect to one or multiple computers running ISL AlwaysOn in a blink of an eye.
Download ISL AlwaysOn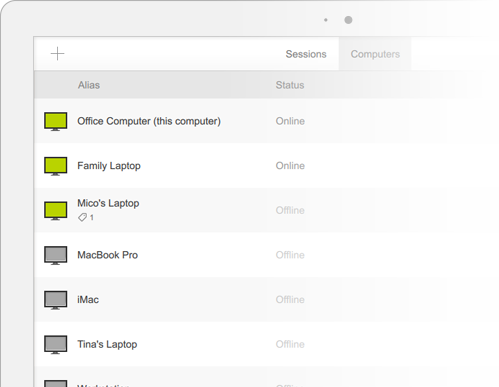 Remote System Information
View remote computer hardware and software information with elegantly redesigned visuals to gain a fast and transparent insight of CPU, memory, data drives and other crucial information.
www.islonline.com/join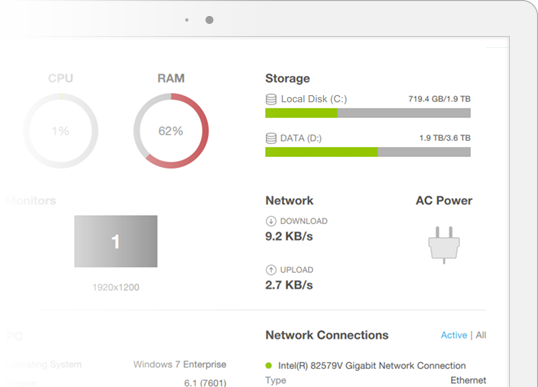 Group and Share Remote Computers
To be more productive, organise your remote computers and servers into groups. Share a group of computers and grant secure remote access to other users by one click.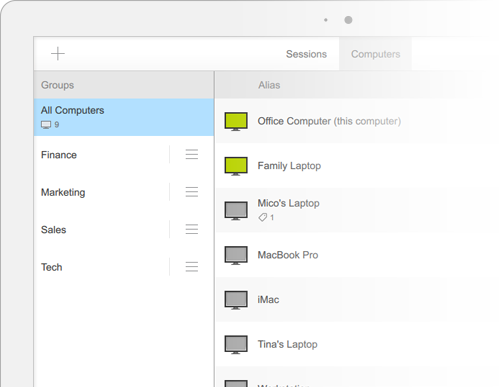 Dashboard
Sessions tab offers a clean overview of all remote desktop sessions running within ISL Light, allowing you to switch between them instantly while the Computers tab shows a list of remote computers that you can access with a single click.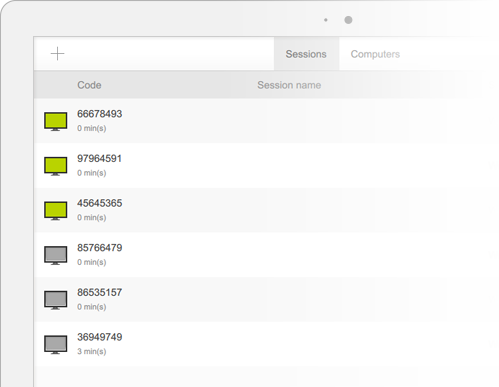 Session Transfer
Transfer active remote support sessions to other technicians.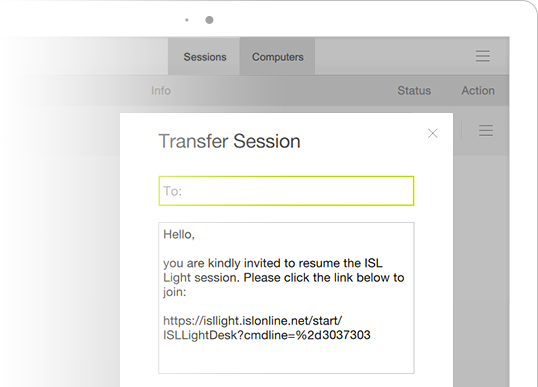 Maximum Security
ISL Online guarantees maximum security with top industry-standard security technologies: AES 256 Bit End-to-end Encryption.

Session Recording
ISL Light 4 adjusts session recording to improve simplicity. Press the Rec button, record your session and play it back later with ISL Player. Recommended for training purposes or later analysis.

Screen Sharing at its Best
ISL Online's proprietary Internet Screen Sharing Codec (ISSC) has been optimised to provide the fastest and smoothest screen sharing since ISL Light was born, making it hard for you to believe you are working on a computer thousands of kilometers away. Choose between high speed and high quality mode.

Zoom Options for a Clear View
To get the best remote view and match the remote screen resolution you can choose between different zoom options.

Multi-Monitor Support
ISL Light 4 detects the number of monitors on the remote side and offers you monitor icons in the top toolbar accordingly. This allows for toggling between different screens or view them all with just a click.

Firewall Friendly
Make every remote desktop connection seamlessly through any firewall without compromising your security.
Effortless File Transfer
Send files to a remote computer within a remote session or receive files and save them to your computer. By default, files are copied to desktop but you can change the download location anytime.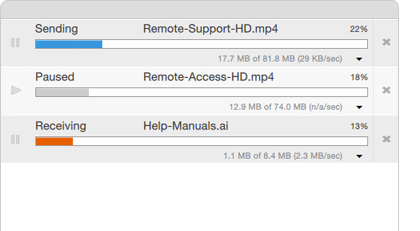 Remote Desktop on Your Desktop
Install ISL Light and simplify your support process even further. Make a shortcut on your desktop or pin it to Start. Choose Run Once to use ISL Light 4 as a thin client.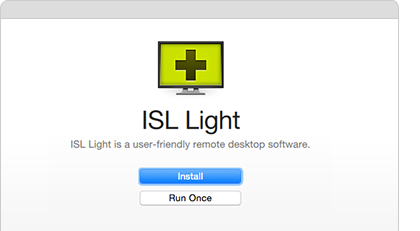 Going Mobile
Use ISL Light 4 to provide remote support to your clients using mobile devices. Connect from your Windows, Mac or Linux computer to any iPhone, iPad, or Android mobile device via WiFi/3G/4G.
Learn More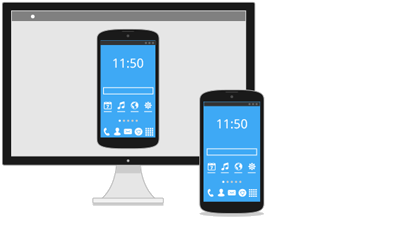 Chat
Instant messaging with a client during the technical support session can help you solve issues faster. Now completely redesigned.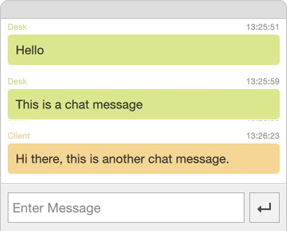 Administrator Rights
Work on a remote computer with administrator rights and install a new piece of software, restart it, switch users, and have complete control over it.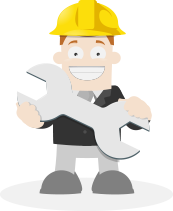 Desktop as Whiteboard
Use a shared screen as an online whiteboard and make your team collaboration over the web easier.

Session Details
Take a quick look at session details.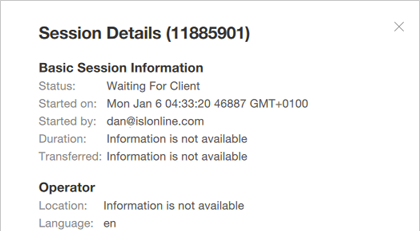 Adding Server Address
Users are now able to simply add the address of the server running ISL Conference Proxy. A handy new feature valuable especially to Server License users.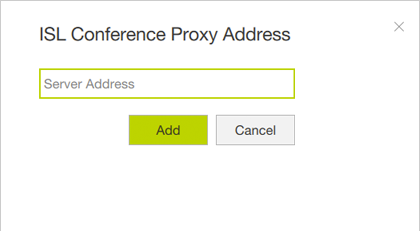 Keyboard Matching
When connecting to a remote computer running a different operating system, the local and remote keyboard now match more effectively.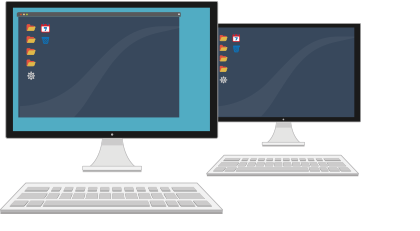 Naming Your Sessions
Give your sessions names and get a more detailed overview of all sessions on your list. Add client's email and a brief session description to get a quick idea about the session.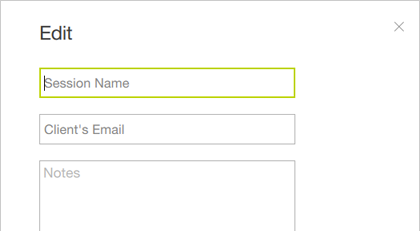 Cross-Platform Remote Support
Perform efficient technical assistance from all major platforms and devices.