Enterprise Remote Desktop Software
Provide fast remote support to your clients, access remote computers or mobile devices, reach your website visitors via live chat, and host online meetings or webinars. From wherever you are.

Top 9 Reasons
Why choose ISL Online as your enterprise remote support and remote access service?
Top 9 Reasons >
Pioneers of Remote Desktop
Pricing Overview
$

990

1 license / lifetime
$

17,325

per license / lifetime
$

469

0

-20%

per 10 licenses / year
$

27,720

per license / lifetime
View Full Pricing Details
300,000 companies. 100 countries. 15,000,000 sessions.
RELIABILITY, HIGH SPEED AND HIGH QUALITY SCREEN SHARING

We are very satisfied with the product we have chosen. ISL Online remote support tool ISL Light offers reliability, high speed and high quality screen sharing, session recording and the product is extremely easy to use. And above all, ISL Online team provides outstanding support when needed!
See More References >
AVG Announces its Partnership with ISL Online
AVG® Technologies N.V. (NYSE: AVG) has integrated ISL Online's remote access (ISL AlwaysOn) and remote desktop control (ISL Light) software into AVG Business Managed Workplace - a remote monitoring and management (RMM) platform, to give Managed Services Providers (MSPs) the ability to easily access and control an unlimited number of unattended remote computers.

OEM Partnership >
Remote Support For Mobile Devices
Offer ad hoc remote support to end-users on mobile devices.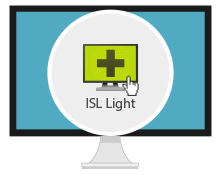 Start a session
Operator runs ISL Light 4 for Windows, Mac or Linux to start a new session on a desktop computer.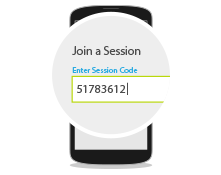 Download ISL Light app
Client downloads and runs ISL Light app for iOS or Android devices.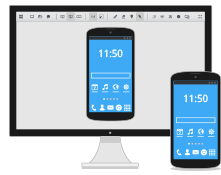 Control Mobile Device
Client joins a session and shares the screen of the mobile device with the operator.
Server Licensing Available
You may use ISL Online either as a service hosted on our cloud or a Server License hosted on your own server.
If you choose to install ISL Online on your own server, all remote connections will be established through your server, keeping all data in a closed corporate environment.
Server License >

Maximum Security
ISL Online guarantees maximum security with top industry-standard security technologies: AES 256 Bit End-to-end Encryption.
Security Statement >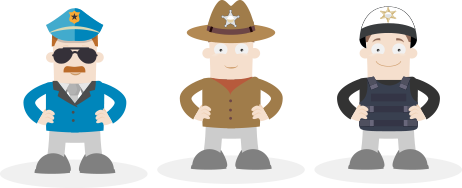 All in One
One ISL Online license includes remote support, remote access, live chat and web conferencing software.